2023 Grand National Meet
August 10 to 12, 2023
Keep an eye on this page for updates to the information regarding this years Grand National Meet at the Bettendorf Waterfront Convention Center.
Here is a map showing the location of the meet and how to get there from Interstate 74 either from Iowa or Illinois.
Here is a shot showing the layout of the convention center and its environs.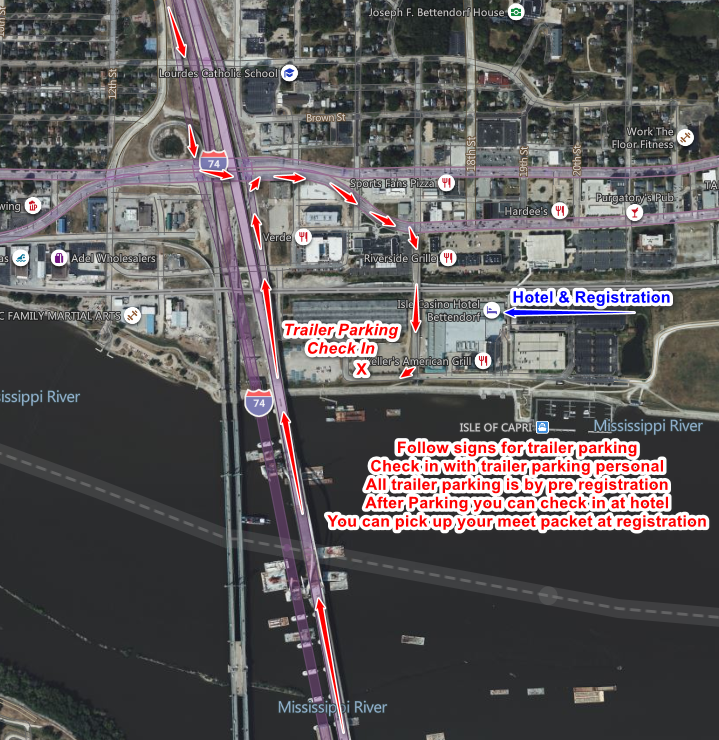 This is an overhead view of the site showing the parking areas the show fields and registration and other areas relevant to the meet.
Here is an overall map of the area showing the location of the site in red.
ON-SITE TRAILER PARKING: There are close to 290 parking spaces available for this meet. Pre-paid- $35 up to 24 ft., $50 for longer. For those of you who choose to not prepay, the charge will be $50. Motorhome parking available for $50. Must be self-contained, no hook ups available On-site trailer parking open Wednesday, Thursday and Friday 10 AM – 6 PM, Saturday 7 AM. All trailers must be in place by 6 PM each day. You will be provided a mirror tag and directions after payment is received.
Any questions contact Clair Pearson 309-737-0581 or [email protected]
This year the Isle of Capri Casino Hotel, Bettendorf that is adjacent to the convention center will be providing rooms to us at a reduced rate. Reservations can either be made online at (This is an updated link) Online Reservations or you can call the call center at 1-800-843-4753. For those of you that use the call center, here are the instructions.
1. Press 7 to select Indiana, Iowa and Illinois properties.
2. Press 1 for Iowa Properties.
3. Press 3 for Isle Casino Hotel Bettendorf.
4. Press 2 to make the reservation.
5. Press 1 to connect to call center.
6, Tell the agent the group code AAC823, provide arrival and departure dates and continue with the reservation.
Please note that you can NOT use the above code directly on the Isle's website. IT WILL NOT WORK. Please either use the above link or the call site.
For those of you that are not familiar with what the Quad Cities area has to offer we have added a page with links to some of the attractions that are available for you to explore. Please click here.